Certification

To receive a Certification Card students will have to complete all necessary homework and pass a written and final open water exam (includes five ocean dives).
Orientation Evening

Before the actual instructions starts, students are required to attend an introduction evening. This is the time for any questions to be answered, required equipment may be purchased, and fitting for provided gear is done.
Classroom / Pool Sessions

Over the time of the course, there will be six 3 hour sessions, of which two will be classroom and four will be pool sessions.
Students are required to study the instruction book at home and will have to pass a written test at the end of class.
Open Water

The final class is an Open Water weekend held in Monterey, CA. Students will perform all learned skills in the ocean during 5 different check-out dives.
To meet your special needs

SCUBA can customize for you a private or personalized Open Water class to fit your needs and schedule.


Briefing before entering the ocean.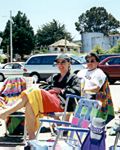 Relaxing between dives, while listening to dive stories.


Rough water exit under the watchful eye of the instructor, Scott Creamer
Special!!!*
All-inclusive package $499.99
Includes - Tuition, Student Kit    (E-Learning), use of all equipment for pool and ocean and certification card.

*Gas, food, lodging and air fills in Monterey not included

OR
Course Cost

-

SCUBA Diver Course

$300

Student material

      $  95

-

Total Course Cost

$395

-

Supplied Equipment

The following equipment is included with the course cost to use during classes:

-

Wet Suit & Hood

BC (Buoyancy Control Device)

Weight Belt

Regulator

Tank

-

Required Equipment

The following equipment is required by each student to have (all can be purchased during the intro class): fins, mask, snorkel, boots and gloves.

-

Basic Personal Equipment

$170-250

-

Tank Refills

Each student is responsible for the tank refills during the Open Water weekend:

-

4 refills @ $8

$32

-

Estimated Total Cost

-

Course cost plus equipment
(Costs depends on equipment students chooses to buy)

$600